After lots of broken promises, I am FINALLY posting these. It's not 100% finished, but close enough that I feel comfortable revealing it! I'll try to do a breakdown of the things in the room in case you're curious.
A few before pictures. As a disclaimer: We were using this as our "closet" because we were preparing to fix our closet. Hence the mess! Well, let's be honest, this was always our "junk room".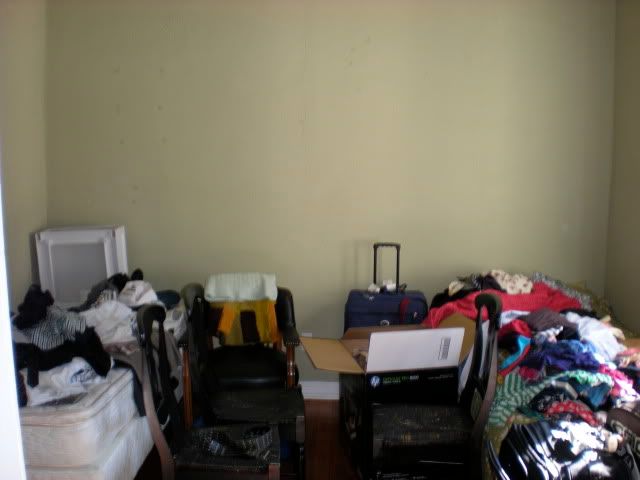 And now, here it is as a nursery: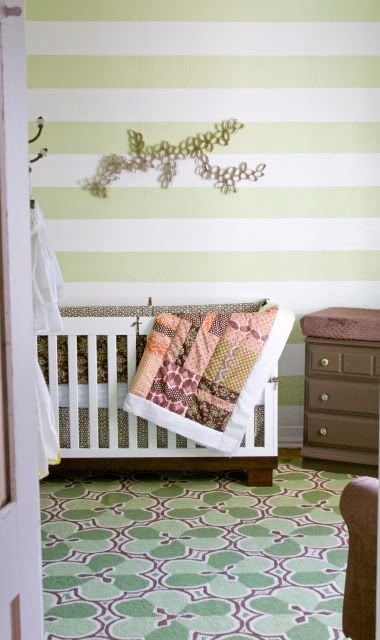 A peek in from the doorway. I am SO glad we got the rug in a bigger size. The room was an addition at some point and they apparently didn't care about the wooden floor in there because it is the WORST flooring job in the world. Plus, it will be great for her to have carpet to play on since most of our house had wooden floors.
Here is a before of the smaller dresser. This picture actually makes it look better than it was. It was really chipped and those gold knobs had to go!

And here is the dresser now!

The bedding is completely done, except I need to bind the edges of the quilt. I loved making it and it was much easier than I expected!
The bookshelf before:


And after:

Most of the items on the bookshelf are from a box of my things from growing up that my Dad brought up to us. (My Mom is jealous right now reading this, because she has about 8 boxes of stuff she wishes she could bestow upon us!)
The closet Adam and my Dad built. I want to put little stuffed animals on the top with their legs dangling. I just have to actually get some little creatures first!
Next to the squirrel print I'll hang the cute wooden clock once I get around to ordering it.
Now for the details:
The $5 lamp before (well in progress anyway):

And after: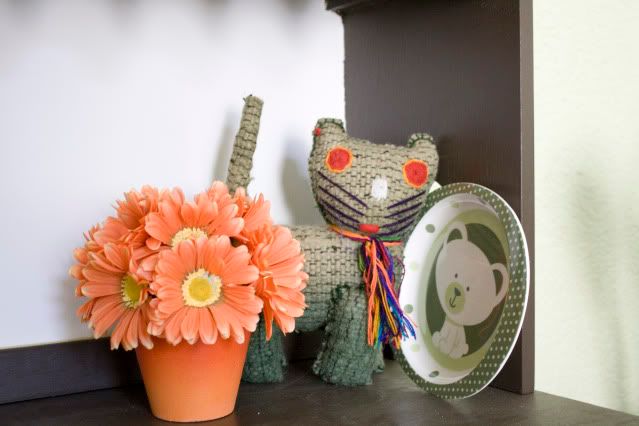 This cat came from our trip to Mexico and the plate was a gift from my Mom from The Children's Place.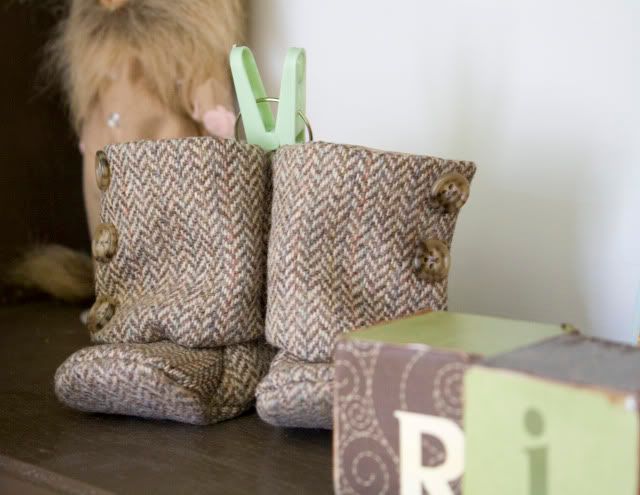 LOVE the little boots from Peekaboo Monkey.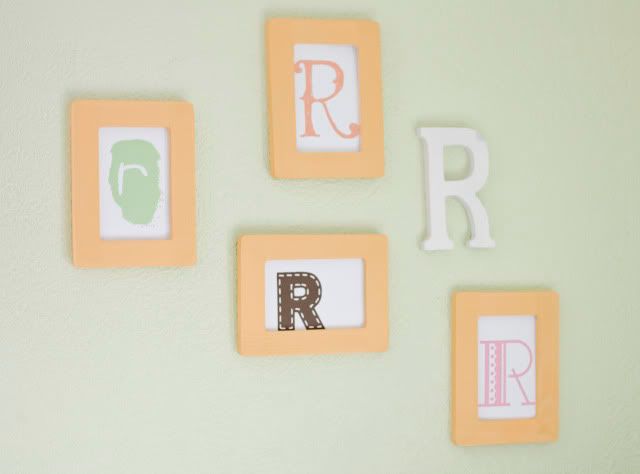 I printed various "r's" on cardstock and painted some wooden frames I had on hand.
Here is the vintage ebay light after it has been spray painted brown and given a new chain and wire. I love this light!
A cute little dress and my Snoopy apron from my own childhood. Hooks are from Pier One.
The art piece above the crib. I got this idea from this post on Design Sponge. It's made from toilet paper/paper towel rolls. There is always the worry about hanging something above the crib in case it falls...well this is perfect. I think a blanket would be heavier! I'm thinking I'm going to add even more to it. I love the look.
Wooden blocks I made that spell out her name.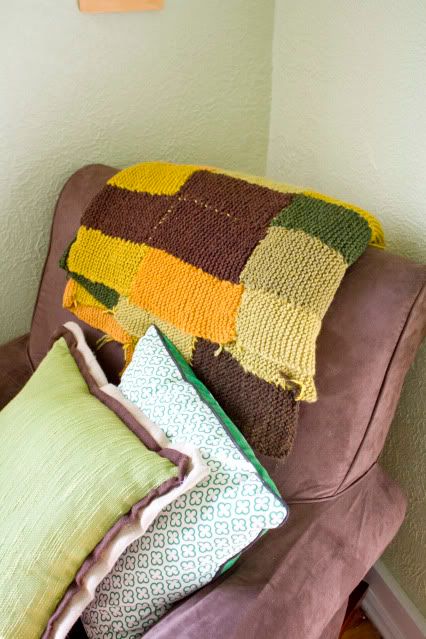 My best friend Mary knitted this blanket as a wedding gift. I think it is one of the coolest presents I have ever gotten. I know it took her forever and I'm so happy that it has a perfect home in this room!
Print on the left from Heather and her husband's Etsy shop and the print on the right was actually part of my baby shower invite. My friend Melanie designed it. There will be 2 smaller prints underneath the brown frame that I have yet to put up.
Anthropologie knobs.
My friend Jess made this magnet board for me as a shower gift. She had asked me before the shower for my extra fabric and she surprised me by using it on the board. It looks great!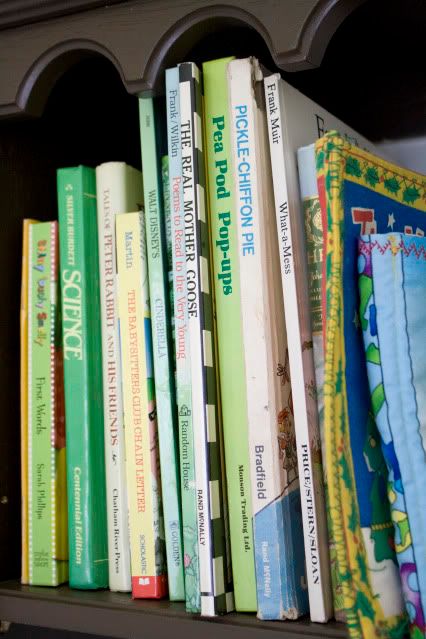 All but one of these books are from my childhood. Can you tell my favorite color was always green?
And a final breakdown with the costs (I always like to see the breakdown on sites like YoungHouseLove so I thought I would do the same). When I would see nurseries on OhDeeDoh, I couldn't believe how much some of them cost. Under $1000 was considered budget friendly...And now I know why! It really can be an expensive little room. It was my goal to spend under $1000 and we did it! We could've saved even more if we had gone with a used crib, but I fell in love with the one we got. Everything else I think was a pretty good deal. It just adds up so quickly!
Crib: Babyletto Modo Crib $300 (on sale + free shipping)
Dressers: Refinished KSL dresser set $100 (it also came with a cool standing mirror)
Rocker: Dorel Rocker w/ Slipcover $230
Dresser Knobs: Anthropologie $48 (total splurge, but I love them)
Lamp: Craigslist find $5
Ceiling Light: ebay $30
Pillows: Green, Tan and Brown $5 from Burlington Coat and Green Pattern from Target $5 (both on sale)
Rug: Pottery Barn $149 (after using gift cards)
Hooks: Pier One $12
Frames: All were frames we already owned.
Art: Kantan Designs Pray Print $5 (on sale), Owl Print by MMBurk (gift), Squirrel print from CacheCache $2.50
Curtains: Target $18 (I got one of the panels on sale because the packaging was ripped)
Paint: Glidden Celery Sticks $30
Fabric: $60 Various Etsy/Local Shops
Total: $999.50
Just barely under! And there you have it!