Every summer we move into an apartment with little more than blank walls, rental furniture and the few items we bring along. We spend 4 months in a place that never feels quite like home. In an effort to a) make this place a little more homey b) give me something to do and c) allow me to get creative and decorate again, I am going to be doing a $200 summer rental redesign challenge.
Here's my plan: I am going to take $200 and do as much as I can to this apartment. I'll be refinishing furniture, sewing and DIY-ing lots of little projects and blogging the projects these next few months. Then at the end of the summer, I plan to sell the things I have bought back for at least what I paid for them originally (and hopefully for more than I paid). I'll be hitting lots of thrift stores, Craigslist (though apparently people in Chicago think their junk is worth a lot. I can't seem to find anything on there for under $50!) and yard sales.
I'll be focusing mainly on the living room and the bedroom since that is where we spend the most time, but I hope to do a little something to the dining area and the guest room. This really will be a challenge since we have less rental furniture than usual. I'll need to get several major items.
End tables for the living room (we have one but I don't like it)
Nightstands for the bedroom
Lamps for the living room and the bedroom (we have a lamp in the living room, but again, I don't like it)
Headboard
Desk
The rest of the money will go to wall art, fabric, decorations, accessories, etc.
I am so excited to start on this project! I have been dying to redecorate my house, but since we just finally finished all of the rooms and since we won't be there too much longer, it just wouldn't make much sense. So here's my chance to play with different color schemes, patterns, etc.
I am off to a bit of a head start. I went to Home Fabrics back home since they were having an amazing sale. Select home decorator fabrics were $3 a yard, but on the day I went they were a dollar off. So I ended up picking several different fabrics for $2 a yard. Home decorator fabrics for $2!!! Here is a sneak peek of the living room fabrics (and of the boring rental couch).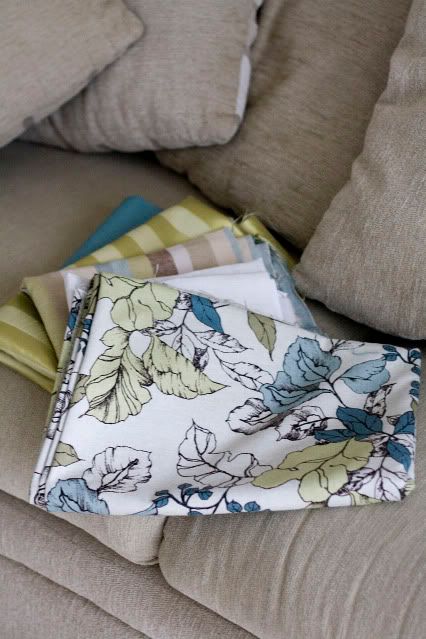 And here are the living room lamps I picked up at a yard sale for $10 a piece. A little pricey for my budget, so I'll have to be careful with the rest of the money though. I'll be spray painting these since they're in pretty rough condition!
Want to play along? Set yourself a budget and makeover a room in your own house! You could give it a fresh summer look without making any major changes. I would love to see what someone else does with a minimal budget and lots of creativity!
Can't wait to get started!